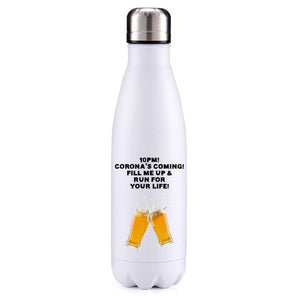 10pm Lockdown metal water bottle
$1289

$12.89
(price includes VAT)
---
---
10pm Lockdown metal water bottle
Never leave your last drink ever again.  Being chucked out of the pub at closing time?  Still have half a pint left?  No problem!  Just pour it into one of these bottles and your drink will be kept cool and fresh until you get home.  If you would like a different drink glass featured then just email us contact@thebrilliantbrandingcompany.com and we can get that done for you!
500ml bright white double walled vacuum bottle with silver lid.  Keeps drinks hot for 12 hours and cold for 24 hours. Versatile and useful for both Summer and Winter. The photograph shows a superimposed image as these are all printed individually by hand to order. Your chosen design may wrap slightly around the curve of the bottle to achieve the best size possible.  If you would like this design personalised in any way please contact me on contact@thebrilliantbrandingcompany.com.  
Not suitable for dishwashers or microwaves.